From water sports and serene campsites to beautiful landscapes and plush amenities, Oklahoma has some of the best lakes within a short drive of Tulsa. Find something to do this summer with these tips to enjoy the lake life.
Broken Bow Lake
Driving time: 3.5 hours
Popular activities:Rugaru Adventures takes guests on zipline tours through the forest canopy with views of Broken Bow Lake. Horseback riding is available through multiple outfitters. Those looking to hit the links can do so at two local 18-hole golf courses, as well as several miniature golf amusements. 
Where to get on the water: Launch your motorboat at any of the public ramps inside Beavers Bend State Park. The park offers paddleboard and canoe rentals, too.
Where to swim: The Mountain Fork River has small inlets popular as swimming holes. On the lake, the Stevens Gap area is one of the best spots to take a dip.
Best place to watch the sunset: Hike to Rattlesnake Bluff inside Beavers Bend State Park for an only-in-
Oklahoma kind of sunset.
Where to eat: Nearby Hochatown has several eateries from which to choose. Grateful Head pizza serves up pies like the Dire Wolf (a meatlover's extravaganza) and the Casey Jones (with Head Country barbecue sauce, chicken, bacon, red onion and pineapple). Just down the parking lot is the Blue Rooster, which cooks up Southern favorites like catfish, fried chicken and po'boys. Mountain Fork Brewery brews beer on-site and features a family-friendly menu and indoor and patio seating.
Where to stay: This area of the state has seen an explosion in luxury cabin rentals. Bookings for an intimate cabin for two, as well as homes and cul de sacs perfect for a family reunion, can be made on websites like airbnb.com. 
Numerous RV parks and campsites dot the area. Lakeview Lodge at Beavers Bend State Park is currently closed for renovations but is projected to reopen in September. 
***
Deep in McCurtain County lies Broken Bow Lake, a 22-mile-long reservoir surrounded by mountain terrain and dense forest. Beavers Bend State Park sits on its southwestern shores. The area is popular during autumn for its spectacular foliage.
Lake Eufaula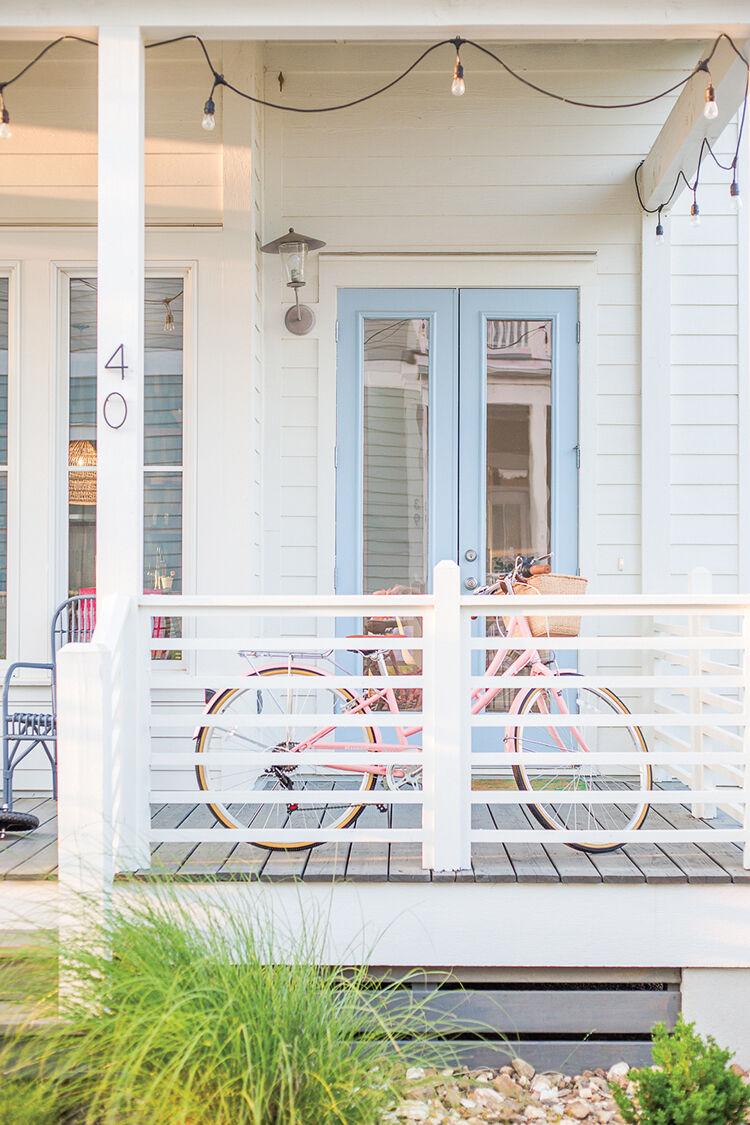 Driving time: 1.5 hours
Popular activities: Disc golfers love the short, but challenging course at Hummingbird Beach. Hike on the 3-mile hilly Arrowhead Hiking Trail at Arrowhead State Park or take on the 2.5-mile Chinkapin Hiking Trail, used by hikers and mountain bikers, at Lake Eufaula State Park.
Where to get on the water: Porum Landing — with its campsite, playground, swimming beach and marina — is a popular boat launch site. Dozens of other boat ramps can access Lake Eufaula. 
Where to swim: Yogi Bear's Jellystone Park Camp Resort offers a water trampoline, splash pad and more. The City of Eufaula also operates two free swim beaches.
Where to learn something new: The Deep Fork Nature Center welcomes students of all ages to learn about the area's animals and habitats while participating in naturalist programs and activities. 
Where to eat: Lunch at June's Restaurant in Checotah is sure to please any picky eater. Choose from one of seven burgers on the menu at Dobber's Restaurant, just across the Canadian River bridge on Highway 9.
Where to stay: Live the resort life at Carlton Landing, a community of private homes, vacation rentals and condominiums. The community hosts numerous events, such as yoga, live music and outdoor movies, for guests to enjoy. Cool off during the hot summer months with a cold, sweet snack from Bud's Frozen Treats.  
***
Lake Eufaula is Oklahoma's largest man-made lake with more than 800 miles of shoreline and 105,500 surface acres.
Grand Lake O' the Cherokees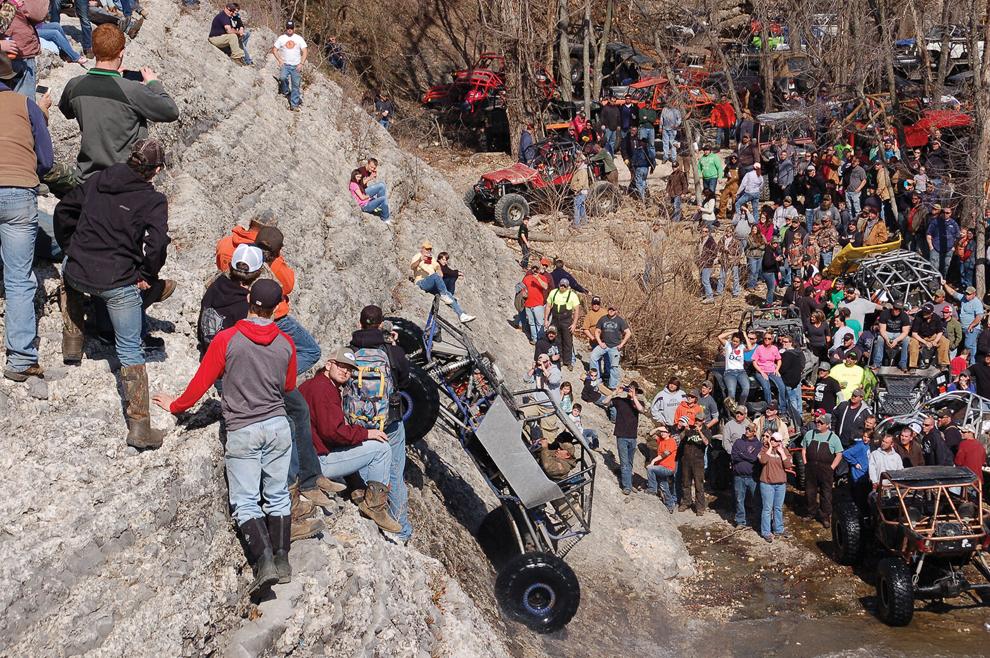 Driving time: 1.25 hours (to Bernice)
Popular activities: There's more to do than be on the water. Be sure to visit the Grand River Dam Authority's Ecosystems and Education Center located steps from Pensacola Dam, which visitors can tour Wednesday-Sunday between Memorial Day and Labor Day.
The dam features 51 arches that stretch the length of the river valley and it is on the National Register of Historic Place. Those who love off-roading head to the GRDA property below the Pensacola Dam for rock crawling. Jeeps and off-road vehicles congregate on weekends and during special events. Also popular is Hogan's Off Road Park in Disney. 
Where to get on the water: Ten public boat ramps are available, along with multiple marina options.
Where to swim: Several swimming beaches are included at the seven Grand Lake State Park locations.
Best place to watch fireworks on the 4th: Motorboat over to Duck Creek, in front of Cherokee and Arrowhead Yacht Clubs, for this annual fireworks spectacular — one of the state's biggest and oldest celebrations. Don't miss a flyover by the Tulsa Warbirds.
Where to watch the sunset: In Disney grab a table at l, known for its ribeye steak sandwich. This live music venue frequently hosts some beloved Tulsa acts.
Where to eat: In a quaint log cabin in Eucha sits Cosby's Catfish Restaurant, a favorite for its all-you-can-eat catfish, as well as a full menu of steaks, burgers and other fare.
One can find many dining options near the dam in Langley, including Carlos Montez Mexican Restaurant and Cantina for Tex-Mex favorites and the Chicken Coop, where you shouldn't skimp on dessert. Order a slice of chocolate or coconut pie. New to the scene is the Cove Club, which opened in 2020 and serves up classic and elevated dishes like prime rib, crab legs, steaks and more. 
In Ketchum is the family-friendly VIP Pizza at Hammerhead Marina.
Where to stay: Built in 1938, the historic Dam Hotel was recently renovated and transformed with two, two-bedroom suites available for those wanting an escape. Just downstairs is the Disney Island Outfitters and Dam Hotel, a boutique swim and gift shop.
Book a short-term rental at a home inside South Shore, a private, gated community featuring a pool, clubhouse and numerous amenities.  
Indulge in a vacation at the renovated and luxuriated Shangri-La Resort. 
***
Created in 1940, Grand Lake has 46,500 surface acres of water with miles of shoreline dotting the foothills of the Ozark Mountains. Often the host of elite fishing tournaments, such as the recent Redcrest 2022, it's a haven for those fishing for bass.
Keystone Lake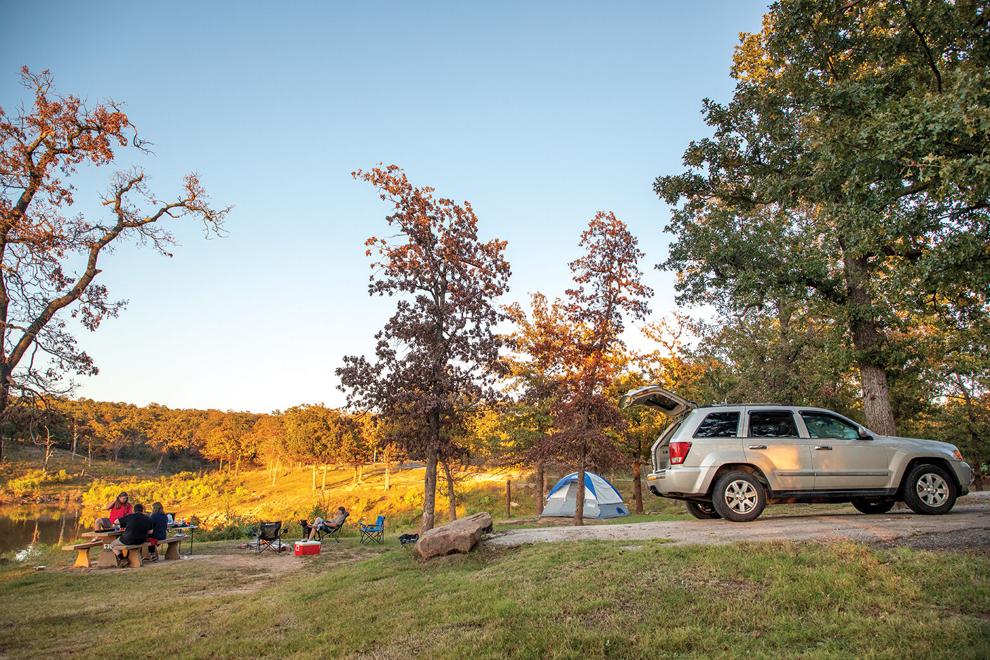 Driving time: 30 minutes
Popular activities: Fishing is tops, of course, but Keystone Lake also is home to Windycrest Sailing Club, which hosts amateurs and experienced sailors throughout the year and at numerous events.  
Where to get on the water: Host your big event on a 60-foot yacht rented from Keystone Harbor. Those with their boat already in tow can launch at the New Mannford Recreation Area ramp, or any of the more than a dozen ramps across the lake.
Where to swim: Along with the lake's public swimming areas, a great place to spend the day is Yogi Bear's Jellystone Park Camp Resort. Check out the splash pool, slides and Wibit for water fun.
Don't miss: Just east of the lake lies the Keystone Ancient Forest, a 1,300-acre nature preserve protecting 500-year-old cedars and 300-year-old post oak trees. Several hiking trails dot the City of Sand Springs-managed park that is open Thursday-Sunday. 
Where to eat: After a long day on the water, fill up at Mannford's Steer Inn, which has been serving comfort-food classics for over 65 years. Don't leave without trying the hot fudge cake: ice cream sandwiched between two slices of chocolate cake and topped with hot fudge.
Where to stay: RV and tent sites are available at Keystone State Park, along with 22 cabins that can accommodate intimate weekends or large family gatherings.
***
The area surrounding Keystone Lake is steeped in history. Originally there was a community of Keystone, named for its key position at the junction of the Cimarron and Arkansas rivers. Botanist Thomas Nuttall explored the area's plants and flowers in 1819, and famed writer Washington Irving made camp at Bear's Glen during his 1832 tour. 
Oologah Lake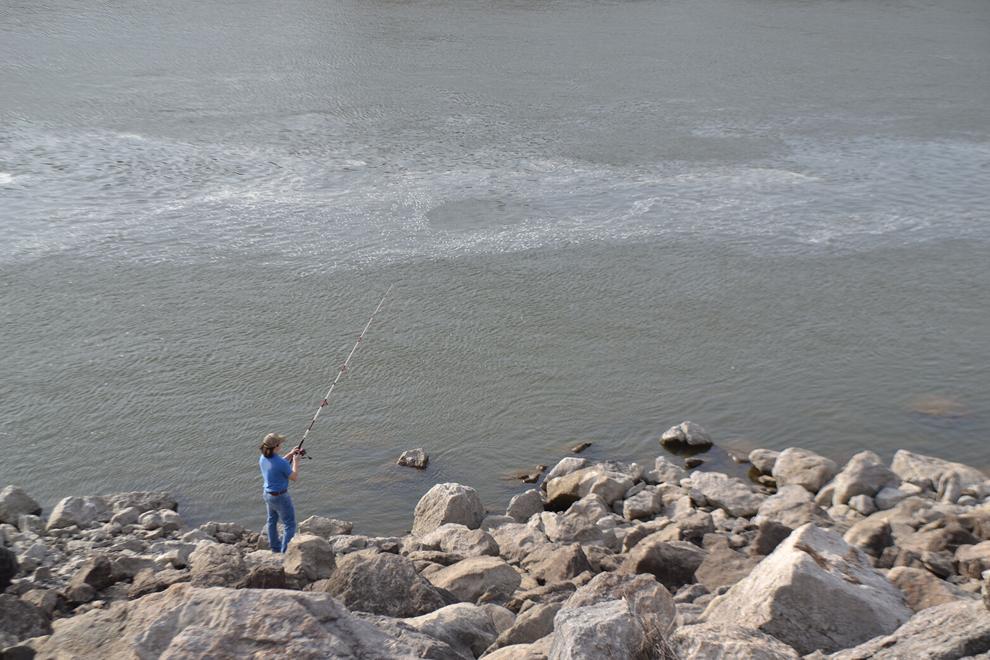 Driving time: 30 minutes
Popular activities: Take a hike! The Skull Hollow Nature Trail is a well-marked path with a short and long loop, and a longer 1.3-mile trail with views of the nearby lake and an old Verdigris River horse crossing. The Will Rogers Country Centennial Trail spans 18 miles, beginning near Highway 88.
With its large expanses and wind opportunities, Oologah is a favorite for those who sail.
Where to get on the water: There are 14 boat launching ramps, as well as Redbud Marina, which offers a full range of services and supplies. 
Where to swim: Two beaches, Hawthorn Bluff and Spencer Creek, welcome seasonal swimmers.
Where to eat: Open seasonally, the Oar House at Redbud Marina serves up Caribbean soul food with an Okie twist. If you're on the northern end of the lake, head to Nowata for a belly-filling breakfast at the Depot Cafe.
Where to stay: Bring your RV or tent to Hawthorn Bluff where dozens of lakeside sites are available by reservation on recreation.gov. 
***
This U.S. Army Corps of Engineers-managed lake was once the site of Will Rogers' birthplace, which was moved and now sits on a hill overlooking the lake. Verdigris River Park, just below Highway 88, is a popular early-morning, bank-fishing spot.
Skiatook Lake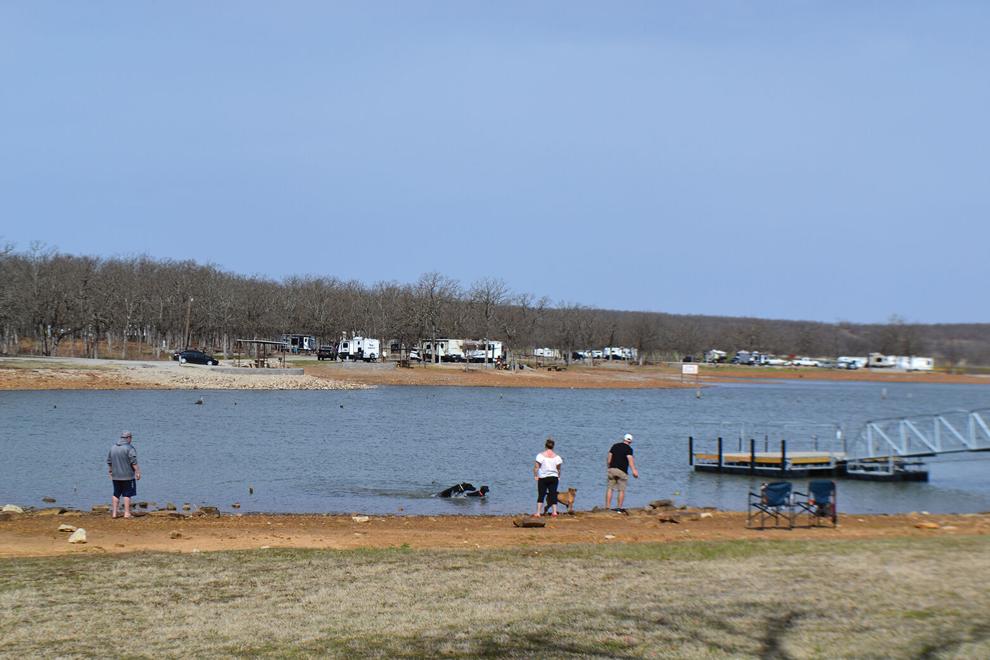 Driving time: 30 minutes
Popular activities: Skiatook is known for its bass fishing — including largemouth, smallmouth, spotted and striper — as well as walleye, crappie, channel catfish and sunfish. 
Where to get on the water: With seven boat ramps, if one seems busy you can always find one that's not as trafficked nearby.
Where to swim: There are numerous steep bluffs surrounding this lake, but Tall Chief Cove and Twin Points both offer designated swimming areas for some fun in the sun.
Best place to watch the sunset: Just off Highway 20, turn into Osage Park Recreation Area. It's not very well marked, but a quarter-mile from the entrance is a wooden post with a metal cable that leads to a clearing to a bluff that sits about 80 feet above the water. Be alert: There are no guardrails, but the scenery is second-to-none. It's often been the site of proposals.
Where to eat: Before hitting the lake, be sure to swing by Mac's Barbecue, an award-winning joint that is a great place to pickup carryout items. Try a "Favorite" like the Messy Pig, a sandwich piled high with pulled pork, slaw and barbecue sauce. Or pick up meat by the pound and a side of campfire potatoes.
Where to stay: A dozen quaint cabins are available for rental at the Cottages at Crosstimbers. Be near the water and within walking distance of the marina where wave-runner and boat rentals also are available. Get dinner at the marina's Boomtown Pints and Pies. 
***
Managed by the Army Corps of Engineers, Skiatook Lake features 168 miles of shoreline, all nestled in the Osage County hills featuring Blackjack and Post Oak forests among Tallgrass Prairie.
Lake Tenkiller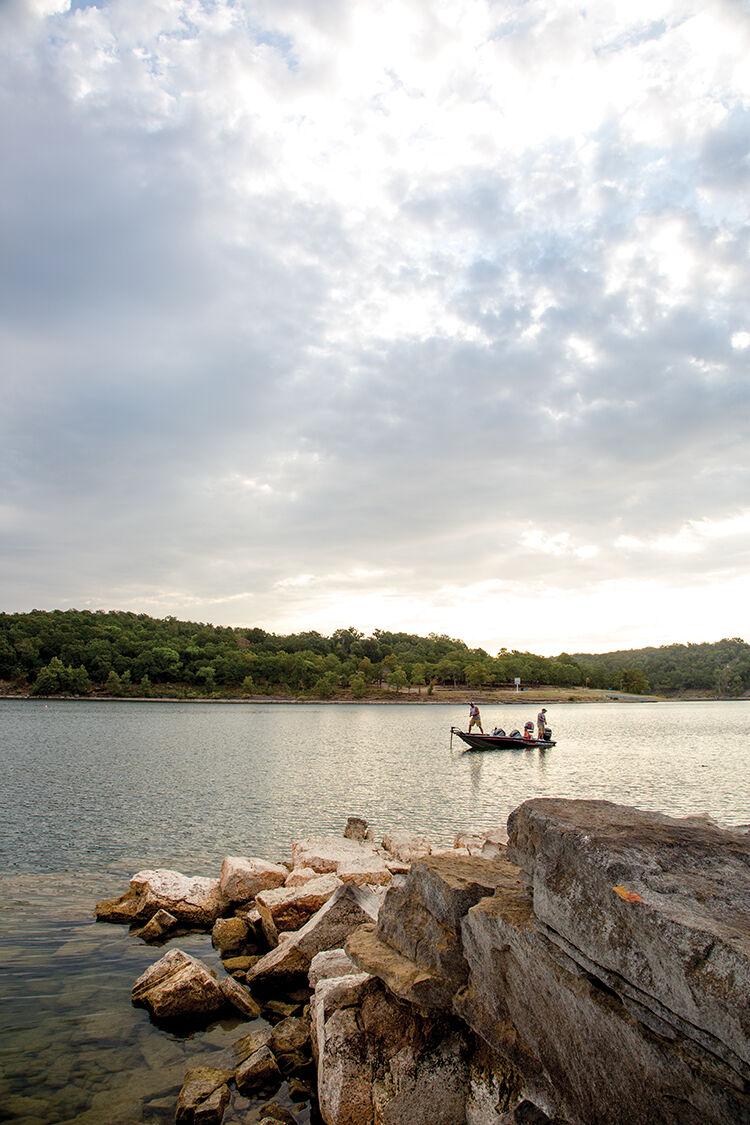 Driving time: 1.5 hours
Popular activities: The 13,000-acre lake is known for its clear waters that make scuba diving a popular activity at Tenkiller State Park. There's also plenty of space to water ski, tube or enjoy fishing for largemouth and spotted bass. Numerous marinas rent personal watercrafts, pontoons, ski boats and more. 
Where to get on the water: There are many marinas and public use ramps spanning the lake, including Horsehoe Bend Public Use Area on the north side, Carlisle Cove boat ramp on the east side and Strayhorn Marina on the southwest corner of the lake.
Where to swim: There are swimming beaches at Cherokee Landing State Park and Tenkiller State Park. 
Don't miss this: In the first few months of the year, go on a guided bald eagle or loon tour in the Sequoyah National Wildlife Refuge in nearby Vian. There are also numerous paths to walk in the Tenkiller State Park trail system.
Where to eat: For three decades, Jimbo's Restaurant in Gore has been serving home-cooked comfort meals. There are a lot of great options up the road in Tahlequah, including White Wolf Steakhouse inside Cherokee Casino Tahlequah (reservations recommended). 
Where to stay: There is camping and RV hookups at Tenkiller State Park and Cherokee Landing State Park, plus many private campgrounds in the area. For those looking to rent a cabin or house, Fin and Feather Resort in Gore has plenty to choose from.
***
South of Tahlequah sits Lake Tenkiller, an outdoors haven with plenty for those on land and water to see and do. Its location is steeped in Cherokee history and numerous significant sites are a short drive away.
---
What's in a name?
How some of our local lakes earned their moniker
by Rachel Dupree
Grand Lake O' the Cherokees
Grand got its name from Henry Holderman, often called the grandfather of the Pensacola dam, who envisioned it as a source of power for the Cherokee Nation. The lake was formed with the completion of the dam on the Grand River in 1940.  
Lake Tenkiller
Lake Tenkiller is named after a prominent Cherokee family who used to run a ferry service on the river where the dam now sits. 
Lake Thunderbird
This lake outside of Norman was dedicated in 1965 and given its name by contest winner Louie L. McKenzie after the Native American mythological legend — a powerful spirit in the form of a bird. 
Oologah Lake
Named after a Cherokee chief, the word means "dark cloud." The lake is most known as the birthplace of the Cherokee Kid, Will Rogers. 
Sources: U.S. Army Corps of Engineers, City of Norman, Oklahoma Historical Society, Voices of Oklahoma