, 2022-10-25 13:12:00,
If you've traveled south along Highway 52 toward Rochester, you've noticed a turn-of-the-century dairy farm that stands out from the rest.
Among the eyeball-catching features on its 10 wind-whipped acres: The white hearse with a weed leaf emblazoned on its hood; the 10-foot marijuana leaf on the garage door; the waving CBD and delta-9 banners; the massive FRIGHT FARM mural; the food truck advertising CANNA-DISC GOLF; and, of course, the two acres of towering hemp plants that've been carved into a maze. 
The multifaceted, weed-themed enterprise was cooked up by owner Ted Galaty, a no-nonsense farmer/entrepreneur with a love for cannabis education and theatrical horror. Right away, the owner and director of production company Rochester Horror knew the farm could host his legit-terrifying Halloween spectacle eight nights out of the year. But, before the land became a money-making playground for Galaty's other passions, it was devoted to the country's most ubiquitous crop.
"The first three years out at the farm, I was growing corn," he says. "At the end of 2017, I was like: I gotta do something different. I came to the conclusion that corn is kind of boring; a hemp maze would be more educational."
So Galaty planted two acres with a variety of grain hemp that's used in protein powders, textiles, and automotive paneling. It doesn't yield CBD, and it won't get you high. It does grow high, however, resulting in an informational maze that reaches 12 feet above the ground, with those unmistakable green leaves blotting out the sun during summer months. When the maze comes down in the fall, the stalks are processed into walking sticks, mulch, and animal bedding. (Minnesota lacks the facilities for more refined hemp processing, he says.)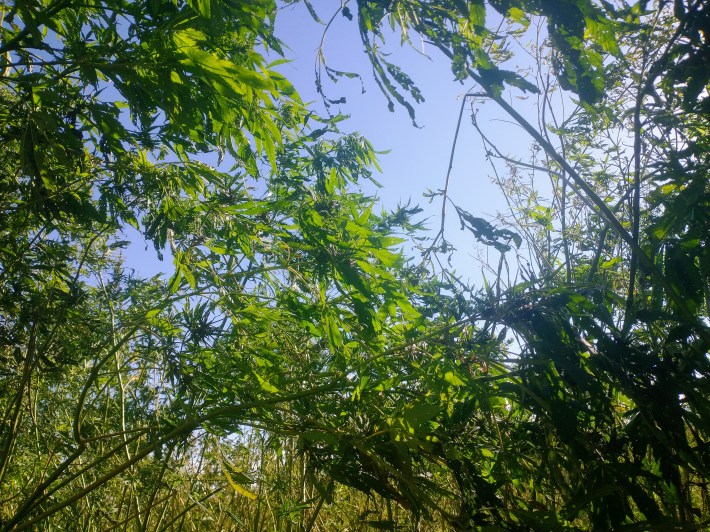 Throughout the maze, signs boasting the innumerable uses of hemp inform the folks winding through it.  
"It's really endless what this crop can do," Galaty says with genuine admiration, citing the U.S. government's World War II-era "Hemp for Victory" campaign. "We've grown hemp for 10,000 years."
He's less fond of the regulatory landscape that popped after the 2018 Farm Bill. Through something of a loophole, that piece of legislation allowed for the commercial production of hemp, provided the plants register THC levels lower…
,
To read the original article, go to Click here