, 2022-02-03 02:00:00,
February 3, 2022 by
Jesse Weisz

in News with comments
This is the second post in our European Re-Open series that highlights European disc golfers as international travel reopens in 2022.
There is a lot to be excited about in the upcoming 2022 professional disc golf season. For many fans, the Europeans' grand return to US competition is the most anticipated story of the year. Here are some of the questions and storylines we will be following around the Europeans' impact on the tour.
1. Which European players at which tournaments?
From our research, we have found five women and fourteen men that plan on coming over for the early part of the US tour. This stretch from the Las Vegas Challenge in late February to the Dynamic Discs Open at the end of April includes five DGPT events, three Silver Series events, and, for those invited, one major, the new Champions Cup. Some Europeans may play all nine of those tournaments; others will only be at a handful. In May, we expect the large majority of Europeans to return home, followed by many Americans, to play the European swing of the tour, culminating in another major, the European Open.
When you plot out all of the Majors, Elite Series DGPT, European Pro Tour, and PDGA EuroTour events (full schedule here), it's surprisingly possible to play the majority of both continents' tours. If an MPO player plays in the US through DDO, then plays European events from May to July, and returns to the US for Ledgestone onwards, they can participate in 66% or more of the events in all three of the tours plus all of the Majors, not to mention plenty of Silver Series events. A European MPO player would need just two roundtrip flights across the Atlantic to make this tour a reality. A European FPO player would need to alter this schedule somewhat in order to also make it to the USWDGC.
Here's a theoretical schedule: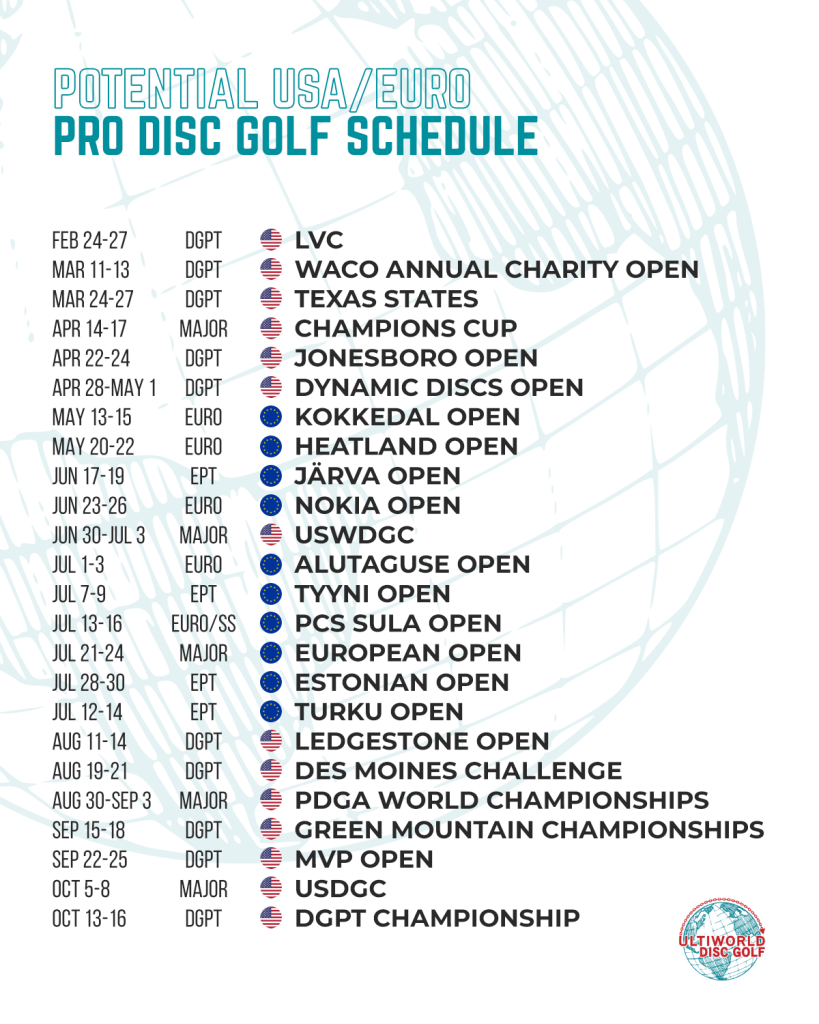 How many of our Atlantic neighbors will come back to the US after the European swing? Could a lack of success in the early season diminish the numbers for the latter part of the season? Or will some breakthrough performances and a potentially receding pandemic inspire more Europeans to come back to the US in August?
2. Who is the best female player in the world?
The most predictable impact of the Europeans touring the US is that FPO is going to be incredibly competitive. Three of the top four rated women in the world…
,
To read the original article, go to Click here