, 2021-08-24 02:00:00,
Article content
Windsor's Chantel Budinsky is officially a world-class disc golf player.
Article content
Just two years after picking up the game, the 28-year-old finished third at a world amateur disc golf tournament — and from here, she's planning on going professional.
"I have been practising every day for the last two years, so I came out ready to play my best game," Budinsky, 28, said of her recent win.
Budinsky finished third on Saturday at the Professional Disc Golf Association (PDGA) Amateur Disc Golf World championships in Orlando, Fla.
You really only need a Frisbee to be able to go and play
Bringing together 43 of the best female disc golf players from eight countries, the Amateur Disc Golf World championships was Budinsky's first big tournament. She clinched third finishing 4-under par in eight rounds.
But Budinsky has only been playing for a couple of years: she and her fiancee Chris started playing disc golf in August 2019 after seeing "pole holes" — disc golf baskets — in a park. Budinsky got into competing shortly after.
Article content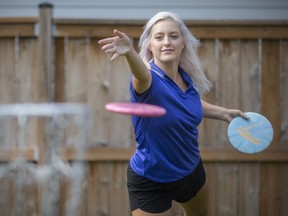 "I just started realizing I was throwing farther, and my putting was more accurate," she said. "I wanted to see how I stacked up."
Disc golf is similar to conventional golf: players aim to land a weighted disc, or Frisbee, into a basket in as few throws as possible. It's an appealing game because it's inexpensive and easy to play.
While playing the five-day, eight-round Florida tournament, Budinsky said she thinks her nerves held her back.
"My nerves were crazy. I couldn't control my arms and legs, it felt like jello," she said. "I'm a little sad I didn't place first,…
,
To read the original article, go to Click here