, 2022-08-10 10:57:50,
Cincinnati and Northern Kentucky have a lot to offer visitors who haven't been before — especially when it comes to food and culture. What first-time visitors also might not know is that the area is surprisingly walkable. Neighborhoods like Mt. Adams plus downtown hubs clustered around the river make for an easily-explored city, especially when compared to other Midwestern cities. That, combined with an extensive parks system, means there are plenty of opportunities for getting outside when visiting this hidden gem. To help you figure out where to stop when checking out the Cincy Region, here are our picks for the must-see outdoor spaces:
Smale Park
No visit to Cincy is complete without some time spent on the river, and Smale Park is one of the best ways to experience it. Smale is especially kid-friendly, with extensive water playgrounds, an interactive piano, and Carol Ann's Carousel. Adults will have plenty to enjoy as well, thanks to the public art, yoga classes, live music, and more. The park is particularly known for its pollinator garden, designed using native species. Smale is even classified as an arboretum, and hosts events designed to educate visitors on the ecology of the Cincinnati riverfront.
Summit Park
Blue Ash, about 20 minutes north of Cincinnati, is a smaller community with an abundance of parks, farmers markets, and town events (plus a golf course for those whose outdoor time is best enjoyed on a cart). However, the standout is Summit Park, a relatively new space that's packed with features. Their events calendar is full of free classes like yoga and line dancing, movies in the park, and road races. A fishing pond allows for catch-and-release anglers to cast their lines, and anyone looking to dine can grab dinner at one of the restaurants that serve meals up under the giant glass canopy in the center of the park.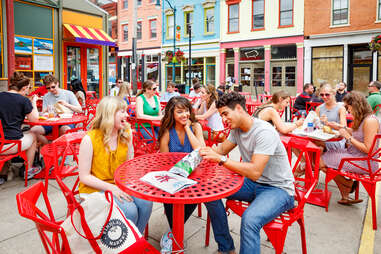 Findlay Market
Cincy's food traditions are no joke, and the open-air Findlay Market is one of the best places to take them all in while enjoying a walk. Open Tuesday through Sunday all year round, it's basically an ongoing food festival that hosts music, cooking classes, and a huge lineup of local vendors. If you're looking to explore Cincy's vast food catalog in one go, this is the place to go. Everything from pierogies to goetta, local chocolate and tea can be found here, plus plenty of shoppables like jewelry and even cigars. All of this is…
,
To read the original article, go to Click here