, 2010-12-03 02:00:00,
The sport of "disc golf" (so named here to subtract the more well known trademark, "Frisbee") is perhaps played more often on the Wii than in real life. Even so, the sport itself is an obvious good fit for Wii owners as the entire sport essentially boils down to players standing in place and taking turns swinging their arm. Past iterations include a turn in Wii Sports Resort and Tiger Woods releases beginning in 2010. It also appeared on WiiWare recently in Zoo Disc Golf. So disc golfers have no shortage of choices on the Wii, and at least two of them are already highly recommended by us at Nintendo Life. Is there really room on the roster for one more?
Although some other games released so far have gone with a more realistic approach (with Tiger Woods using actual golf courses), HB Arcade Disc Golf follows Zoo Disc Golf's lead and kicks it up a notch. Featuring a wacky course design that resembles geographic terrain found in nature but unlikely to strike anyone as a place suitable for golf of any variety, the settings include canyons, caves, islands in a lake, and crazy Jetson-like mesas up in the air.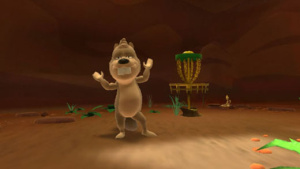 At first, these courses look intimidatingly difficult. And in real life, they would be. But the game mechanics make playing it artificially easy. Too easy. For one thing, you don't ever really have to aim. The game seems to choose a reasonably good starting position for you with every "stroke" you take. Although you can change your facing direction, there is rarely much reason to do so except to throw around an obstacle. Instead, your primary decisions are simply how fast to throw the disc, and whether to twist your wrist to the right or left to add "draw" or "fade" to your throw (curving your throw, for the uninitiated). So although there may be a huge canyon between yourself and the "hole" (a standard disc golf basket for catching the disc), your player always begins facing in the right direction, already corrected for wind resistance, and you merely must throw hard enough to get over the canyon. Throwing hard means simply swinging the disc in a longer arc. It is not measured by actual throwing strength.
Again, it's not as hard as it looks. As long as you can hold your hand steady, you'll either throw it too hard, or not hard enough, but you'll always be roughly on target. There is no MotionPlus support, so highly sensitive controls are not to be found here. As a result, your input was intentionally kept to a minimum. This makes…
,
To read the original article, go to Click here
Private Internet Access gives you unparalleled access to thousands of next-gen servers in over 83 countries and each US state. Your VPN experience will always be fast, smooth, and reliable.