, 2022-08-03 23:04:28,
A few year ago we ran
this story
on natural swimming spots around Metro Detroit. Readers loved it. Stunning swimming spots reconnect us with nature and allow us to appreciate living in the Great Lakes region, so we thought we'd update the list so you can make the most of your summer.
Here are 10 to consider paddling in before the season ends, each with a different range of splash pads, playgrounds, trails, and boat docks attached (it's also always worth checking park entry fees and if lifeguards are on duty). There are plenty more too, feel free to drop your favorite in the comments below (if you're willing to share, that is).
Lakeside Beach  
3870 Gratoit Ave, Port Huron
Port Huron maintains two main beaches, and Lakeside is a great option. With sandy shores, the location is a prime spot for swimming, volleyball, and BBQs (there are grills available). Two pavilions, Kate's Kabana concession stand, and a playground add to the facilities, but it's the splash pad that really brings the family fun. A beach pass is required to park at the beach from Memorial Day to Labor Day (it's free for Port Huron residents and $5 for St. Clair County residents).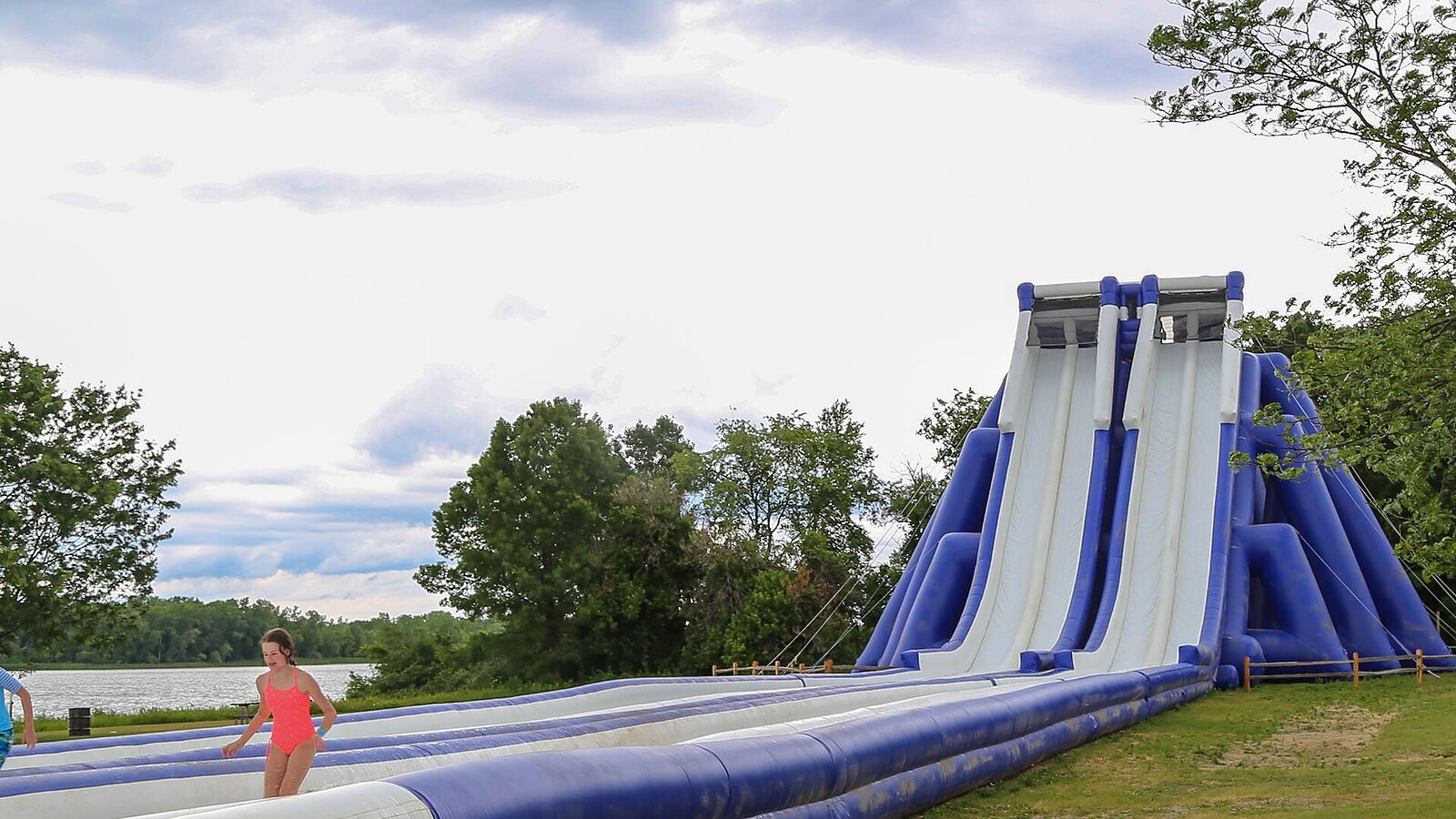 The Quadzilla Slide at Eastwood beach in Stony Creek Metropark.
Stony Creek Metropark
4300 Main Park Road, Shelby Township, MI 48316
One of those havens that families return to year after year, this extensive park includes two places to swim in Stony Creek Lake (Baypoint and Eastwood beaches). Eastwood often has a massive four-lane inflatable water slide available ($10 for an all-day pass). Fishing is popular here too, and the scenic sprawl across Oakland and Macomb counties offers boating, a nature center, trails for hiking and biking, and several sports fields. The daily fee is $10, or you can buy an annual pass for Huron-Clinton Metroparks.
Pontiac Lake Recreation Area
7800 Gale Road, Waterford
This park features the longest beach in southeast Michigan (just over half a mile), but also boasts a model airplane flying field, a modern and rustic equestrian campground, an expansive picnic area, and an off-leash, fenced area for dogs. If you want to work up a sweat before swimming, the Oakland County space has an 11-mile mountain bike trail that ranks as one of the best in the country. As a state park area, it requires the Recreation Passport for vehicle entry.
Belle Isle
99 Pleasure Drive, Detroit
Belle Isle Park, a 985-acre island park located in the Detroit River, is worth a visit whether you are prepared to…
,
To read the original article, go to Click here