, 2022-09-26 15:51:03,
September 26, 2022 by
Kingsley Flett

in Analysis, Recap with comments
Does anyone else feel that we have been treated to an anthology of enthralling human stories in our game this year? From life-affirming press conferences and joyous celebrations to scenes of crushing tragedy, the tales of the last few weeks have been so rich in drama and pathos that I think I'll ditch Netflix and just watch disc golf.
Consider the last few throws of the 2022 MVP Open at Maple Hill. We had Simon Lizotte pacing around the scorer's hut, chewing his t-shirt nervously, as the final card played their upshots to the rock wall boxed green. Corey Ellis was 166 feet out on the left side. An almost perfect spot. He just needed to execute a tricky but very makeable hyzer forehand onto the green for a birdie and a one-throw win. It was the biggest shot of the West Virginian's career. But, as Disc Golf Network commentator Nate Sexton said when describing the weight of the moment, "It's this feeling, that your arm isn't really connected to your body in the way you are used to." Ellis's arm decided to pull the disc across his body, and it sailed into the crowd lining the out of bounds area on the left side. There was a collective groan of "Oh no" a few times, but it quickly turned into a chant of, "Simon! Simon!" as they realized their adopted hometown hero was in great position to win.
Ellis's 76 foot bid to force a playoff skipped off the rim of the basket. The camera was again on Lizotte as he looked slightly sheepish, smiled, hid his face in his cap, and generally didn't quite know how to react to the idea that he'd risen from 39th place and two-over par after round one to victory in a tournament that, outside of a World Championship, he prized over all others. Then, just after Steve Dodge handed Simon the trophy with the roars of the crowd still ringing through the staging area, DGN camera operator Matt Lavallee spied Cory Ellis sitting alone, head in hands, in the scorer's hut. "Those two impostors," as Rudyard Kipling called triumph and disaster, never sat so well side by side.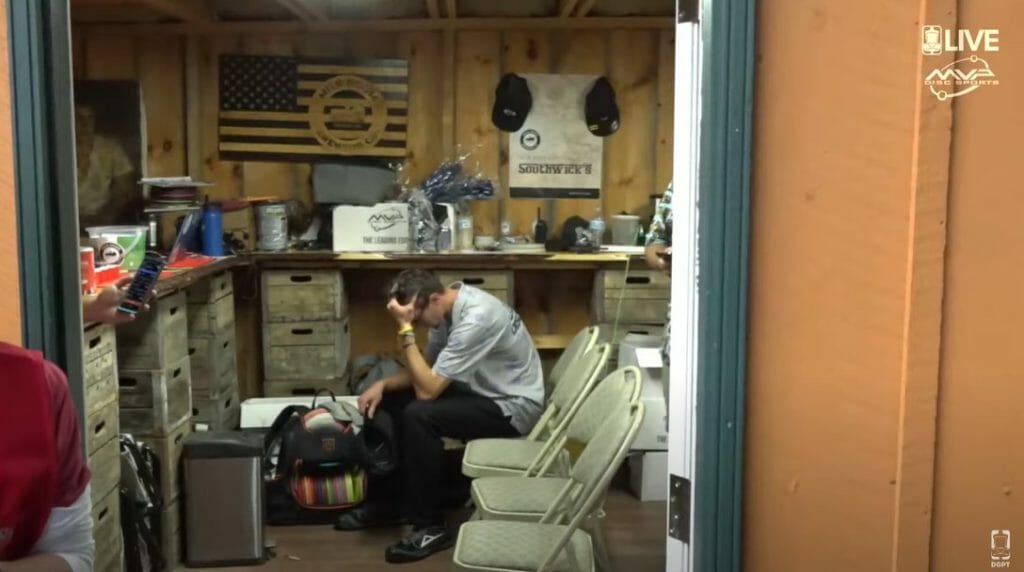 The last gasp snatching of defeat from the jaws of victory would have been hard for Ellis to absorb. After a rough start to the final round where he found no birdies and one bogey, on hole 5, his…
,
To read the original article from discgolf.ultiworld.com, Click here